+ Archive
Time's Up: SeatoxDetox
› 5/12–1/3/2020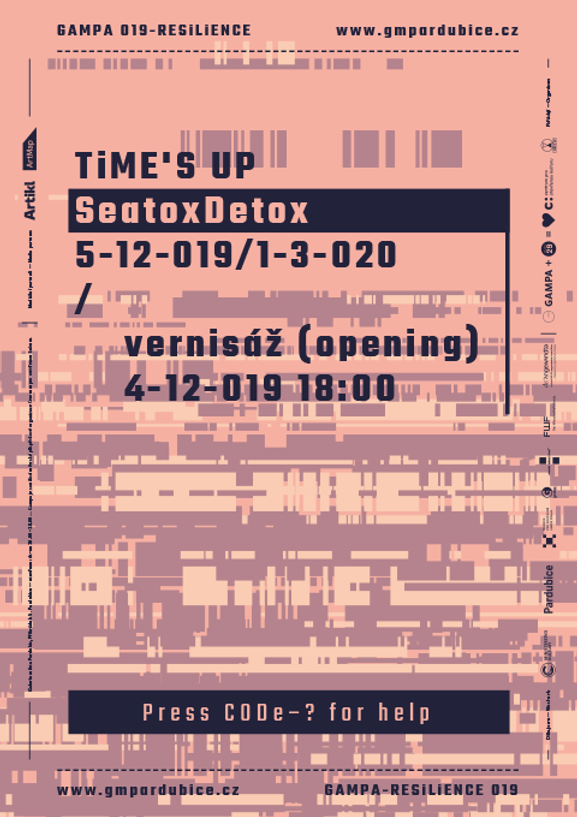 Time's Up is an established Austrian interdisciplinary group that oscillates within the borders of art, architecture and scientific approaches. During its 20 years of existence, Time's Up has developed its creative way of physical narration, a form based on constructed imaginations of possible scenarios of the near future. In its installations, the group works with stories that are staged in a real space and which the audience has the opportunity to explore and enjoy the search for new information, data, story and context. The transdisciplinary work pulls together the expertise and interest not only of the core group, but also the large network of Time's Up associates, with over 140 people involved in the latest exhibition, with inputs from textiles to medical tech, from radio voices to stagework.
---
PROJEKT › RESILIENCE 2019

---
The collapse of ocean ecosystems due to over-fertilization and ineffective waste management is currently being discussed internationally. It is a vital and important aspect of climate change, water system degradation and many other issues. In this exhibition, we are situated in a near future after an ecological collapse of the oceans. A new ecosystem is emerging: industrial run-off creates massive algal blooms, decomposing algae release toxic fumes on desolate and deadly beaches, the remnants create toxic water killing other fish, molluscs and seaweeds, the only animal that can survive the anoxic water is the jellyfish. Nevertheless oceanside communities hold on, undertake restoration work and reclaim their place on the water.
With the final exhibition of the gallery season in 2019, we return to an ecological basis; an exhibition that we might call a museum in a sense, but which uses contemporary artistic thought and technology in order to explore a possible future. The Time's Up project does not moralize, but reminds us that we can decide to continue and try to create the best of all possible worlds, even in the midst of ecological dystopia. The exhibition invites us to visit a working base for the local Fishing For Litter workers, who are, in the face of poisonous oceans and collapsed ecosystems, working to save their beloved and valued ocean from pollution and collapse.

The book Ambiguous and Incomplete, released in 2018 by Revolver Publishing, Berlin, chronicles the group's development and describes Time's Up's transdisciplinary activities as they have evolved. Their projects are created to be interpreted from a large number of angles and thus to be precisely ambiguous and incomplete, inviting all disciplines to interact and interpret. The book will be available at the exhibition.
-----
Downloads
TZ_Times Up: SeatoxDetox.docx
Photos from the exhibition
Accompanying program
+ Accompanying program