+ Archive
The Talking Fish cannot Breathe
› 10/10–24/11/2019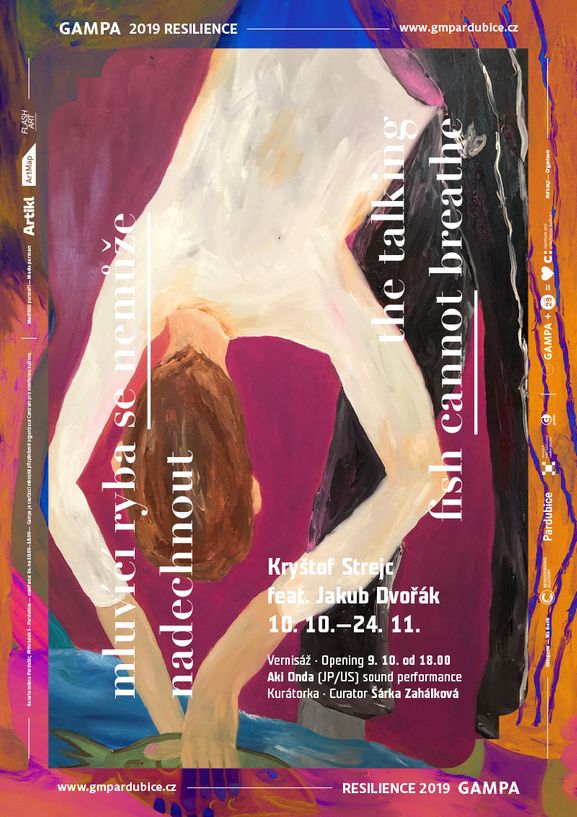 Kryštof Strejc feat. Jakub Dvořák
Curator: Šárka Zahálková
---
PROJECT › RESILIENCE 2019

---
Kryštof Strejc (* 1994) and Jakub Dvořák (* 1991) are both fresh graduates – Kryštof at the painting studio at UMPRUM in Prague, Jakub at the architecture faculty at the Technical University of Liberec. Both share an almost furious ardour and a relationship to spatiality. In Pardubice's GAMPA, they meet in creative dialogue.
Jakub's architectural practice is often anchored in relatively large scales and contexts. These force him to think about dwellingness, habitableness, the function of buildings or environments, particularly in relation to people or a particular community. In his fine art, however, Jakub sensitively resorts to the smallness and even minuteness of everyday objects – their meanings and states. Both these approaches mix in the gallery space, helping settle Kryštof's works into a particular scenographic situation.
Kryštof's large-format drawings and paintings often expand outside their framework, becoming objects, crossing the borders of what we usually expect from an image. Though they are full of bright shades, clear colours, and pop culture references, they also have a certain darkness about them. Apocalyptic narratives settled into the timelessness of reality, where the depicted unworn trendy tops clearly betray the fact that our lived present is not too distant from the narrative in question. Do we truly find ourselves at the end of the world? The true end, not just filler for the quiet news season in the tabloids or a Hollywood blockbuster which shows the thousandth devastation of an American metropolis in the name of the salvation of humankind…?
Let us not end with the tears of environmental grief and the dystopian despair of today, when democracy is becoming a shunned utopia. The future exists and hope dies last. After all, the motif of the fish on Kryštof's paintings can be read as both a challenge and a way out, a "cliffhanger" into the new world.
Naďa Johanisová, ecological economist and a critic of both capitalism and socialism, claims that if we want to be successful in facing the stress brought about by the state of contemporary society and the climate crisis, we need to realise that the world is extremely complex and doesn't always react the way we want it to. American biologist and feminist Donna Haraway expresses a similar position: we need to create unexpected connections, change our established ways of narration. This is why we have to stay active and let our values lead us – but without clinging to the result. Let us search for economic alternatives, step out of the mainstream, not let ourselves be blinded by the illusion of infinite growth, let us consider, share, reframe traditions, let us be local within global discourse, let us discuss. It's thirty years after the Velvet Revolution, and don't worry, hope grows gold!
-----
Downloads
TZ_Mluvící ryba se nemůže nadechnout.docx
Photos from the exhibition
Accompanying program
+ Accompanying program